(See sanskrit transliteration scheme)
Main Post:
In February 2005, I took initiation into Level-1 of Babaji's Kriya Yoga and in April 2005, into Level-2. In Level-2, we were given a list of names of siddhas (meaning, "perfected beings") and deities—all are infinite intelligences—and we were told the qualities of each intelligence. We were asked to choose based on what resonated with us and what qualities we wanted to invoke within ourselves, at that time. We got initiated into one mantra of our choice from that list. When they described the list, one of the descriptions was about siddhar tirumUlar (from now on I will use the more popular spelling and form, "Thirumoolar"). However, I did not take that mantra at that time, instead I got attracted to the mantra of Lord Muruga (also known as, skanda, kArtikEya, kumara, sanat kumara and subramanya). He is also known as, "The Lord of Siddhas."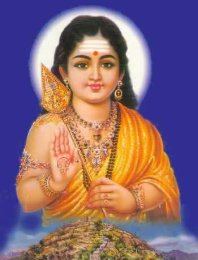 Few months passed. Around early June 2005, I happened to be at my friend's (he is also my music teacher) place, as he was giving a lecture-demonstration on Ayurvedic cooking. (yummy!) When we were all eating, he started talking to somebody and I happened to be nearby. I overheard him talk about how he got a message from Thirumoolar to do an internet search for a certain, "51 syllable Siva mantra," so he can practice and teach to his music students. He had not started to teach that mantra, yet. This time, I strangely got attracted to the name "Siddhar Thirumoolar." But, I did not ask about it. I felt, if I needed it, I would surely get it somehow. After that I forgot about it completely.
A couple of days later, I started to get this urge to find this mantra. I thought that I was just making it up. So, I ignored it. I kept getting this thought constantly. One week passed. I was just seeing, if that was just a random thought and would pass. But, it was not, and I could not resist it any longer. So, I googled, the terms, "51 syllable Siva mantra Thirumoolar." The first site that popped up was, Thirumoolar's Siva Yoga site. Here, I found the following mantra (also available in Tirumandiram
(Vol 2, Verse 946)):
Om
Si va ya na ma
ya na va Si ma
ma va ya na Si
Si ya na ma va
va Si ma ya na
Om
For further details on this mantra and Siva yoga, visit the site. I practiced this mantra for about five minutes everyday, with the intent of contacting Siddhar Thirumoolar. Barely a week had passed. Then, on July 10, 2005, I had the following vision. I am quoting my journal entry below, with a few grammatical and spelling corrections.
Contact with Siddhar Thirumoolar (July 10, 2005)

Early this morning, I had a profound awakening from sleep. I didn't know, if I was dreaming or awake. I saw red lasers emitting from my third eye. At the other end of the rays, there was a figure the half the size of my little finger. The figure was burning red surrounded by intense flames the color of the sun. I couldn't make out who that was.

The figure said, "Your third eye is open and I want to enter."

My head was already feeling burning hot from the flames from the figure.

I asked, "Who are you? Why should I let you in?"

Then, the figure said, "I am Thirumoolar and I want to help you."

To that I said, "I surrender. Please help me."

At that moment I saw my forehead split open. For a brief period I saw a bearded man in that opening. My head became unbearably hot. But, I was not afraid at all.

Then, the scene changed. I saw myself climbing the stairs in our home. My wife was coming down.

She asked, "Why are you like that?"

I replied, "Thirumoolar entered me. I am going to the pooja (meditation) room. I will talk to you after that."

Then, the scene changed again. I found myself in Tiruchanoor (my native place in India). My father, my uncle and several other elders were sitting in a circle with piles of papers in front of them.

I asked, "What is all this?"

My father answered, "We are translating scriptures in Tamil to English."

I nodded.

I was about leave and my father asked, "I forgot your guru's name. What is it?"

I smiled and said, "Thirumoolar." I left the room.

The vision ended there and no more after that.

In the morning, I was contemplating, if Kriya Babaji arranged for me to meet Siddhar Thirumoolar. A voice arose in me that said, "Obey Thirumoolar. He is also your guru." I said to myself, "Okay." The contemplation ended there.
Siddhar Thirumoolar is full of divine love and compassion. He is fiery in nature, like the brilliant sun, burning away the darkness of ignorance in me.
In few days after I got this vision, I received a message to get initiated into Siva yoga offered from the website mentioned above. As of writing this article, I have been initiated into and practicing Step-4.
I hope this article serves as an inspiration to any of you who are interested in contacting the great Siddhar Thirumoolar to ask for help on your path to self-mastery, enlightenment and ascension. Great ascended masters like him are available all around us to guide us in our quest for Truth.
Link Love
I would like to extend some link love to the following blogs: